Contents: 4g(10 sheets) / 21kcal 71.91% Traditional Laver (Korean)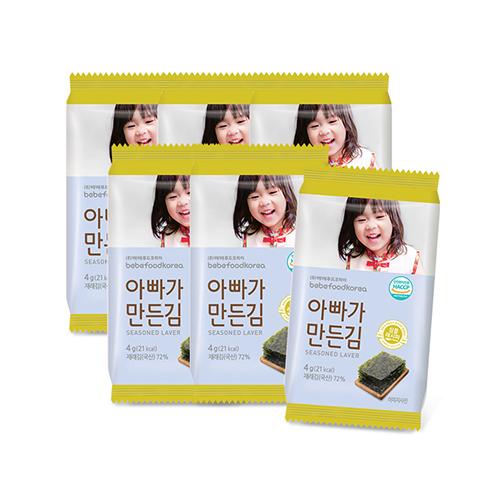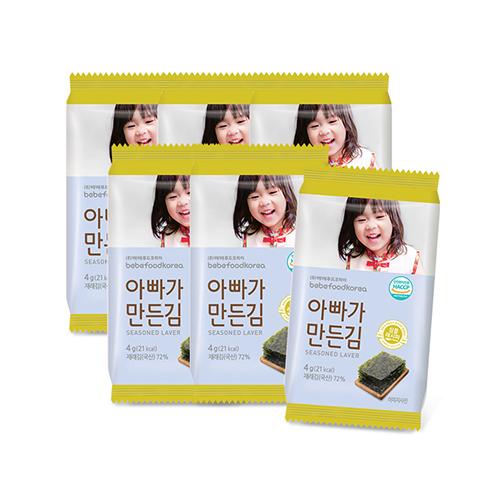 Product Name
Bebefood Seasoned Laver
Food type
Seasoned Laver
Contents
1 pack: 4g (10 sheets)
Bundle: 4g (10 sheets) x 6 packs
Box : 4g (10 sheets) x 6 packs x 6 EA
Shelf life
12 months from date of manufacture
Ingredients and contents
Traditional laver 72% (domestic), brown rice oil 23% (domestic), sesame oil 3.5% (domestic), solar salt 1.5% (domestic)
Nutrition Facts and Content
serving size (4g) / total 1 serving (4g)
| | | | | | |
| --- | --- | --- | --- | --- | --- |
| | Content per serving size | % nutritive intake value | | Content per serving size | % nutritive intake value |
| Calories | 21kcal | | Fat | 1.3g | 2.6% |
| Carbohydrate | 1g | 0.4% | Saturated fat | 0g | 2.4% |
| Sugars | 0g | 0% | Trans fat | 0g | |
| Dietary fiber | 0g | 0% | Cholesterol | 0mg | 0.2% |
| Protein | 1g | 2% | Natrium | 45mg | 2.4% |
Keeping method and caution
Avoid an area with direct sunlight or humidity and keep in a cool or well-ventilated place.
In order to avoid getting soggy as easily after opening the bag, please keep remaining lavers in closed containers.
Using only traditional lavers collected from the west coast of Maryangpo area, Seocheon, the product has soft and smooth texture of food and is rich in nutrition.
It contains Korean sesame oil and brown rice oil with rich vitamin E. Especially subtle aroma of grain in brown rice oil is pervasive, so you can enjoy more savory laver.
Vitamin D contained in Bebefood seasoned laver is an essential nutrient for the children.
It contains Korean sea salt with high natural minerals and low-sodium content.
It is hygienic and safe to manufacture in HACCP certified facilities.
1.How to choose a good laver
A laver collected in a cold winter contains the most high protein content and is the most delicious.
It must have shine while mostly having black colors.
Overall, it must have evenly thick and dense particles with no hole seen.
It should have turquoise color after baked.
A delicate fragrance of the sea oozes out rather than fishy smell.
2.Lavers contain as much nutrition as following.